Your key to VIP status at Smith Tower.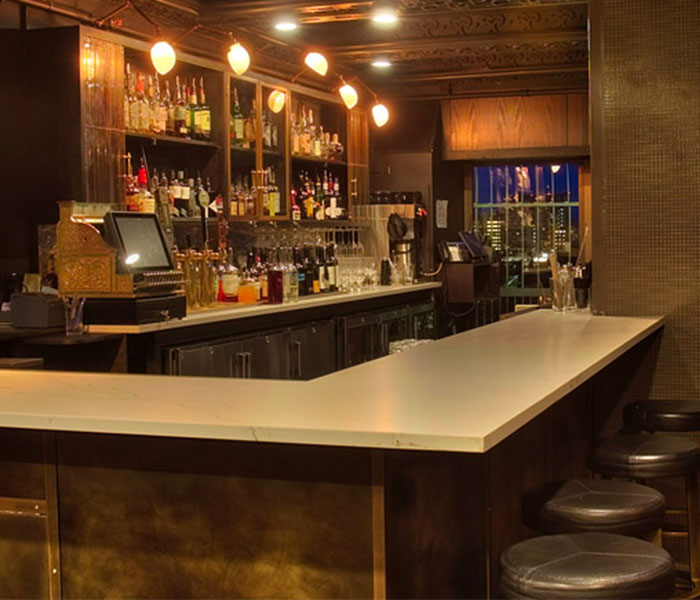 Individual Rum Runner's Card
In honor of our bootlegging roots, we offer a Rum Runner's Card so our frequent guests can enjoy swanky perks all year long, including*:
Unlimited access to the Observatory, Legends of Smith Tower Exhibits, and Bar year-round
One complimentary guest per visit, per card
20% off all gifts and souvenirs
20% off food and beverages (yes, this includes alcohol)
A celebratory cocktail of your choice during your birthday month (non-alcoholic beverages are acceptable too!)
$125 PER CARD | $195 FOR TWO CARDS
*Discounts cannot be combined with any other offer. Rum Runner's Cards are valid for one year from purchase date. Subject to availability, blackout dates apply. Special events not included. All sales are final. Additional taxes and fees may apply. Rum Runner's Cards and valid ID must be presented to grant entry. Smith Tower and its management reserve the right at their sole discretion to refuse service to any patron and/or revoke the Rum Runner's Card of any individual or company (without refund), due to inappropriate, disrespectful, violent, harassing, or otherwise unacceptable behavior by the cardholder or by the cardholder's guests or companions. Not valid for special events.

Rum Runner's Company Card
For our favorite businesses looking for an iconic place to entertain clients, host unique company events, or have another "office," this is the card for you. Our Rum Runner's Company Card is transferable among employees of the participating company, and the card must be presented by an employee of the participating company when visiting the tower. The Rum Runner's Company Card offers these exclusive benefits**:
Up to 13 people allowed per visit, including the cardholder
20% off retail purchases
20% off food and beverages
15% off food and beverage for private events
15% off food and beverage for group reservations of 20-40 people
**A company business card or other form or verification must be presented with the Company Card. Available Sunday through Thursday only. Presentation of Rum Runner's Company Card required for admission. Admission and seating are based on availability unless a Group Reservation has been made. Not valid for special events. Additional guest passes not included.